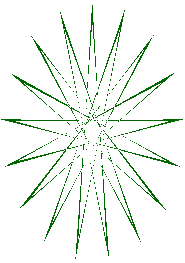 2005:

D
isney 
Legend
 Fred Joerger, a master model maker who
helped create Disneyland's look by molding three-dimensional

models of the Sleeping Beauty Castle, the Haunted Mansion,

and other attractions, passes away at age 91. Walt Disney

handpicked Joerger back in 1953 to become one of the first three members of WED

Enterprises (today known as Walt Disney Imagineering) along with Harriett Burns

and Wathel Rogers. Joerger's unusual knack for creating gorgeous rockwork out of plaster led to his reputation as 

Imagineering's "resident rock expert." Among his rocky mountain highlights; the huge stones featured on the Jungle 

Cruise and Big Thunder Mountain Railroad at both Disneyland and Walt Disney World. Joerger also built miniature sets 

and props for Disney motion pictures, including Mary Poppins, Darby O'Gill and the Little People, and 20,000 Leagues 

Under the Sea. The "Here Lies Good Old Fred - A Great Big Rock Fell On His Head" Haunted Mansion tombstone is a 

tribute to Joerger!

1918:

A
 young Walt Disney forges his parents' signatures to enlist in the American Ambulance Corps (part of the 
Red Cross
) as an ambulance driver. He changes his birth from 1901 to 1900. (Walt's older brother Roy has been in the Navy since June 1917.) The ongoing World War (or the
Great War) is currently being fought in Europe involving all the world's great powers. (At 11 a.m. on  November 11 1918; "the eleventh hour of the eleventh day of the eleventh month"; a ceasefire will come in to effect ending the

war ... about a week before young Walt ever reaches France.)

1951:

Walt Disney tells journalist & animation historian John Culhane: "The most important aim of any of the fine arts, is to get a purely emotional response from the beholder."

1979:

The Wonderful World of Disney airs part 1 of "The Sky's the Limit" on NBC.

Originally airing in January 1975, a family is thrown into turmoil when a grandson convinces his

 grandfather to teach him to fly.

2003:

Buena Vista Records/Hollywood Records releases Hilary Duff's second album Metamorphosis - which features the single "So Yesterday."

Stitch! The Movie, a direct-to-video sequel to Lilo & Stitch, is released.

Stitch, an alien living on Earth disguised as a dog with his human family, continues his adventures when he discovers that the alien family he never knew he had is now in Hawaii, being hunted down by galactic forces. The main voice cast features Chris Sanders as Stitch, Frank Welker as Sparky, Daveigh Chase as Lilo, Jeff Bennett as Dr. Hämsterviel, Kevin Michael Richardson as Captain Gantu, Tia Carrere as Nani, David Ogden Stiers as Dr. Jumba Jookiba, and Kevin McDonald as Agent Wendy Pleakley.

2006:

Thousands of fans, along actor with Kyle Massey of That's So Raven, gather at

 Toonfest 2006 held at Disney Studios in Burbank, California. The first official fan fest

 dedicated to the family-friendly game - Disney's Toontown Online - features contests, games and a parade.

Snow White and the Seven Dwarfs cost Disney over $1.5 million and nearly bankrupt 

the company!

1990:

Retta Scott, the first woman to receive screen credit as an 

animator at Walt Disney Studios, passes away in Foster City, 

California. First hired in 1938 and assigned to the Story Department, her stunning 

sketches caught the eye of Walt Disney who moved her to the Animation Department. 

Scott's Bambi credits include the vicious hunting dogs in the sequence where the dogs 

pursue Faline and fight with Bambi. She also contributed to Fantasia, Dumbo, and The 

Adventures of Ichabod and Mr. Toad
 and appeared on-screen in the Disney live-action studio tour film 
The Reluctant Dragon
. She was laid-off from Disney during a periodic studio downsizing in late 1941, (partially as a result of the infamous Disney animators' strike in the summer of 1941) but was rehired by the Disney Studio in 1942 to once again work in the Story Department. Scott left Disney in 1946 and moved to the East Coast, where she continued to freelance, illustrating Disney publications such as the Big Golden Book edition of Disney's 
Cinderella
. She will be named a Disney Legend in 
2000
.
"Retta had an astounding ability to draw powerful animals. She seemed to have a keen understanding of their moods and attitudes." -animator Frank Thomas

2007:

Hollywood Records recording artist & actress Hilary Duff co-hosts the 

seventh annual Teen Choice Awards, broadcast on FOX-TV.  Among the winners:

-Choice Movie: Action: Pirates of the Caribbean: At World's End

-Choice Movie Actor: Action: Johnny Depp – Pirates of the Caribbean: At World's End

-Choice Movie Actress: Action: Keira Knightley – Pirates of the Caribbean: At World's End

-Choice Movie: Villain: Bill Nighy – Pirates of the Caribbean: At World's End

-Choice Movie: Liplock: Orlando Bloom and Keira Knightley – Pirates of the Caribbean: Dead Man's Chest

-Choice Movie: Rumble: Orlando Bloom vs. The Flying Dutchman Crew – Pirates of the Caribbean: At World's End

-Choice TV Show: Drama: Grey's Anatomy

-Choice TV Show: Comedy: Hannah Montana

-Choice TV Actress: Comedy: Miley Cyrus – Hannah Montana

-Choice TV: Villain: Vanessa Williams – Ugly Betty

-Choice TV: Breakout Star: America Ferrera – Ugly Betty

-Choice TV: Movie: High School Musical 2

-Choice Music: Love Song: "With Love" – Hilary Duff

-Choice Summer Music Star: Miley Cyrus

-Choice Summer Song: "Hey There Delilah" – Plain White T's

Disney Channel debuts "First Day of High School," the 75th episode of

The Suite Life of Zack and Cody. 

Also premiering - two episodes of As the Bell Rings (based on Quelli dell'Intervallo, a series that airs in Italy) about the lives of six friends and their tween issues.

1952:

Emmy and Tony Award-winning actor Michael Jeter is born in Lawrenceburg, Tennessee. Fans of Disney's 1997 Air Bud will recognize him as Norman F. 'Norm' Snively/Clown the Hound. Jeter also appeared in the Touchstone Pictures 1993 comedy Sister Act 2: Back in the Habit. (The Polar Express, in which Jeter voiced Smokey and Steamer, was his final film role and the movie was dedicated to him.)

2008:

The Little Mermaid: Ariel's Beginning is released on DVD, as is Tim Burton's The Nightmare Before Christmas: 2-Disc Collector's Edition DVD. Ariel's Beginning is set before the events of the original Little Mermaid, where all music has been banned from the underwater kingdom of Atlantica by King Triton, and his youngest daughter Ariel attempts to challenge this law.

Disney opens its newest exhibit - a hurricane simulator at Epcot which aims to teach visitors how to better protect their homes ahead of dangerous storms. Meteorologists and emergency management experts are among the first to experience the exhibit in the morning before it is opened to the public later in the afternoon.

K
ingdom Keepers II: Disney at Dawn
, the second book in The Kingdom Keepers series set inside the Walt Disney World Resort, written by 
Ridley Pearson
, is published by Disney Book Group.
1940:

Voice actor Don LaFontaine is born in Duluth, Minnesota. During his career, La Fontaine will

 record over 5,000 movie trailers and over 350,000 television commercials, network promotions, and video

 game trailers. His Disney credits will include the animated series Fillmore! and the feature Meet the Robinsons.



"Guys like Fred (Joerger) were kind of the heroes of the next generation of Imagineers." 

-Kevin Rafferty (senior show writer and director at Walt Disney Imagineering)

Yet, the film grossed over eight million dollars internationally

 when originally released!

1948:

Walt Disney and animator Ward Kimball (both railroad enthusiasts) return to the

Studio after a 10-day trip visiting the Chicago Railroad Fair and Henry Ford's

Greenfield Village. The Railroad Fair in Illinois, an event celebrating 100 years of railroad history west of

Chicago, features locomotives, and various lands including - Vacationland, an Indian Village, a New Orleans section,

a Gold Gulch (frontier section) with a haunted house and opera house, as well as shows and a nightly fireworks

display. Henry Ford's Greenfield Village in Dearborn, Michigan, features four centuries of historic buildings (moved

from their original locations) and laid out in an old fashioned Main Street design. The Wright Brothers' bicycle shop

and Thomas Edison's laboratory are part of the impressive collection of buildings that Ford has assembled. Walt will

be greatly influenced by what he has experienced on this trip.

(The Chicago Railroad Fair was a one-time event, but 
Greenfield Village
 continues to offer visitors a trip
back to the sights, sounds and sensations of America's past.)

2009:

A keel laying ceremony is held for the Disney Dream in Papenburg, Germany, 

where the new ship is starting to come to life after a lengthy design phase. The keel

laying ceremony - attended by Donald Duck - is a maritime tradition in which the first block of the ship is lowered 

into the building dock. Builders then place a coin under the keel for good luck. The Disney Dream is expected to 

set sail in early 2011.

"Retta had been a student at Chouinard's and she used to go with us on our

drawing trips. She could draw as well as any man. One of the things she did on Bambi was a bunch of hound dogs

 which was very powerful and frightening." -animator Marc Davis

1994:

Disney's Hollywood Pictures releases the comedy Camp Nowhere starring Jonathan

 Jackson, Christopher Lloyd, Melody Kay, Andrew Keegan, Marne Patterson, and

 Jessica Alba (in her first film role).

Touchstone Pictures releases the comedy It's Pat. The androgynous, pudgy, and obnoxious Pat, from "Saturday Night Live," baffles friends and neighbors alike, who cannot decide if Pat is male or female. The

film stars Julia Sweeney (as Pat), David Foley, and Charles Rocket.

1949:

The Goofy cartoon Tennis Racquet is released.

Directed by Jack Kinney, this short features a tennis match between Goofy and Goofy ... complete with Goofy

 spectators, a Goofy announcer, and a Goofy groundskeeper tending the court during the match.

In memory of Fred Joerger (1913-2005)

In memory of Retta Scott (1916-1990)

2010:

As of today, Toy Story 3 has tallied more than $592.9 million internationally, Disney's

 largest international animated release.

1806:

H
enry Dircks, an English engineer and practical inventor who is considered to have been the main designer of the projection technique known as Pepper's ghost, is born in Liverpool, England. Pepper's ghost is an illusion technique used in the theatre, cinema, amusement parks, museums, television, and concerts. The illusion is performed by reflecting an image of an object off-stage so that it appears to be in front of the audience. It is named after scientist & inventor 
John Henry Pepper
 who implemented and popularized a larger working version of Dirck's device in 1862 (after Dircks invited him to view one). Although the two men shared a joint patent, it was named after Pepper. Pepper's ghost is still used today... in Disney's Haunted Mansion, Pinocchio's Daring Journey, and The Twilight Zone Tower of Terror. Dircks passed at age 67 in 1873.
This Day in Disney History - THE FIRST - THE ORIGINAL

Traveling in time since 1999!

2016:

The Port of San Diego's 2016-17 cruise season begins on this day with the arrival

of Disney Wonder at the B Street Cruise Ship Terminal. The 2,700-passenger Disney Wonder

will board guests for a 14-night voyage through the Panama Canal to Port Canaveral, Florida, with stops in 

Cabo San Lucas and Puerto Vallarta, Mexico; Cartagena, Colombia; and Cozumel, Mexico.

2014:

The Legacy Collection: Mary Poppins is released on Walt Disney Records, to coincide

with the 50th anniversary of Mary Poppins. (The Legacy series commemorates distinct anniversaries

of Disney films and the 60th anniversary of Disneyland, containing newly remastered versions of the original and

expanded soundtrack albums.) The second volume in the series (of 14), this three-disc soundtrack features music

from the 1964 film, fifteen demo recordings by the Sherman Brothers & seven "Lost Chords" recordings, and archival

recordings of story meetings held at the Walt Disney Studios.

1946:

Actor Rickie Sorensen is born in Los Angeles, California. His acting career began in 1956 when he was just 10 years old in the western film "The Young Guns." He later appeared in "Tarzan's Fight for Life" and "Tarzan and the Trappers." Sorensen's Disney credits included the 1961 animated "One Hundred and One Dalmatians" as the voice of Spotty, the 1963 television movie "Johnny Shiloh" as Rusty, the 1963 animated "The Sword in the Stone" as the voice of Arthur, and the 1978 live-action "The Cat from Outer Space" playing a technician. "The Cat from Outer Space" was his final role as he retired shortly after. Rickie John Sorenson passed in 1994 at age 47 from cancer.

1980:

Actor Chris Pine is born to actor Rober Pine and actress Gwynne Gilford in Los Angeles, California. Making his feature debut as Lord Devereaux in The Princess Diaries 2: Royal Engagement (2004), Pine later appeared in A Wrinkle in Time (2018) as Dr. Alexander Murry. Fans of sci-fi know Pine best for his role of James T. Kirk in such films as Star Trek, Star Trek Into Darkness, and Star Trek Beyond.

2019:

Pup Academy, a new television series, premieres on Disney Channel in the United States (and on TVOntario in Canada). The show centers on Charlie (played by Don Lake) a man who has established a secret academy for puppies in a parallel world where they are educated on how to become dogs.